Dear Friend,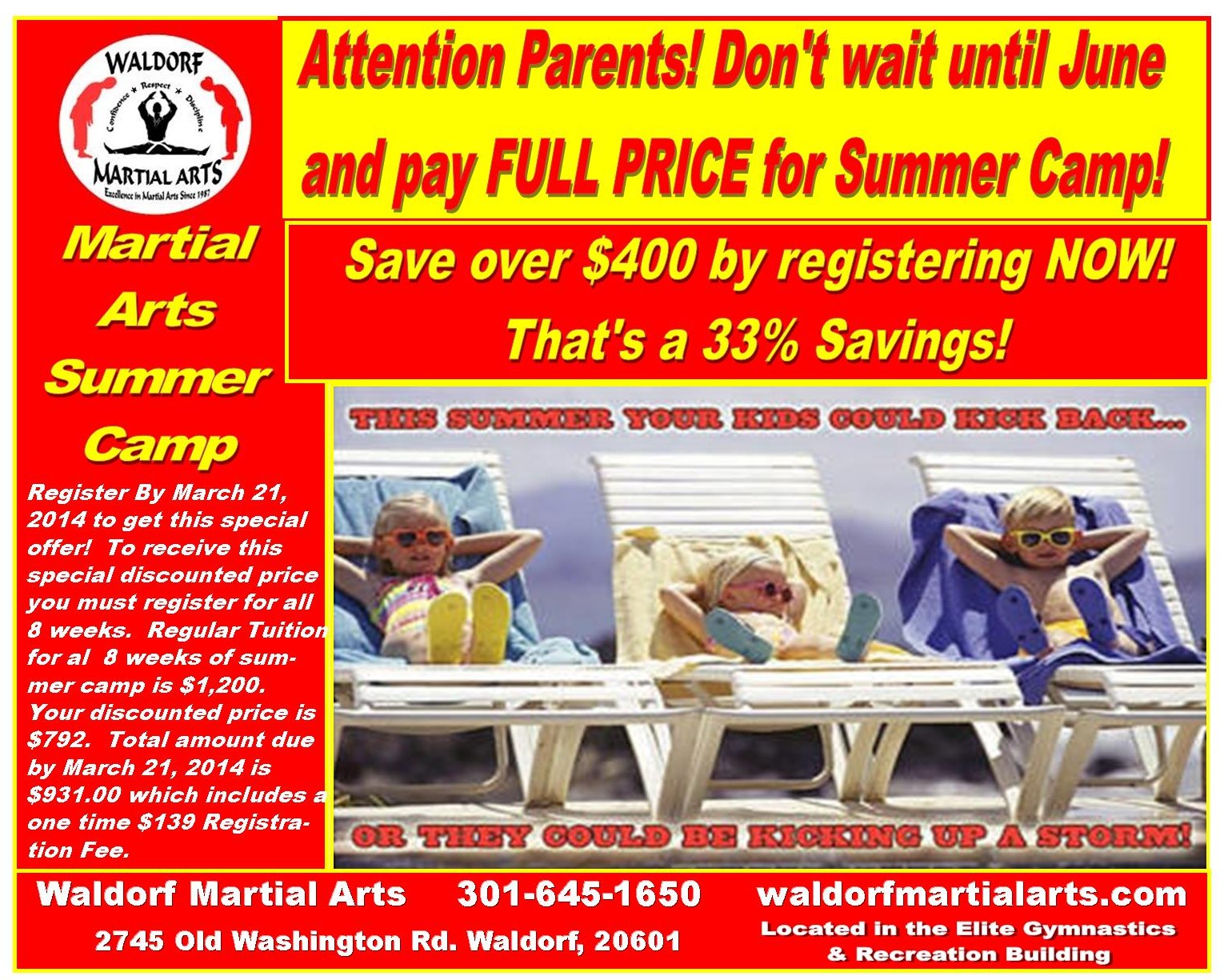 Summer will be here before you know it and we are inviting you to pre-register your child for our Karate Sports Summer Camp at a substantial savings. You can save over $400 if you register by March 21, 2014. That's an outrageous 33% savings!
Now, in order to receive this specially discounted price, you must register for all 8 weeks of camp. The regular tuition is normally $1,200. But with this special invitation you will pay only $792! And, if you need to budget, we accept most major credit cards.
The total amount due by March 21st is $931, which includes the $792 discounted tuition fee and a one-time registration fee of $139. Please hurry as this is a limited-time offer and the number of campers is also limited.
As an extra incentive, the first 20 people to take advantage of this opportunity will also receive an official Waldorf Martial Arts T-shirt when they register!
This is our way of saying thanks for your past patronage and trust in our programs! We hope to see your children this summer! We have a great summer camp planned and I can assure you the kids are not going to want to go home!
To register, you may call or stop in. Our phone number is 301-645-1650.
Sincerely,
Master Debbie Cavanaugh, Waldorf Martial Arts, Summer Camp Director
PS: If you'd like to earn even further savings, just refer as many friends as you like to our summer camp, and for each of your referrals that register, we will reward you with a $25 Gift Certificate to the St. Charles Towne Center or the Movie Theaters at the Towne Center!
PSS: DON"T MISS OUR SPRING-BREAK KARATE SPORTS CAMP EITHER. TO FIND OUT MORE ABOUT THE SPRING-BREAK CAMP OR TO REGISTER SIMPLY STOP IN OR GIVE US A CALL! BUT HURRY, IT'S RIGHT AROUND THE CORNER!