Who wants to kick stress's tail…
Whip your body into "wicked-Fit" shape…
And feel Stoked about yourself!
Taekwondo IS great for adults! The fact of the matter is that Taekwondo was developed as a practical and effective method of fitness and self-defense for adults. And, it's a great way to let off steam and lower stress while raising your energy level!
Taekwondo knocks out stress and leaves you feeling great after a workout!
Taekwondo burns up fat and helps to control your weight while toning up and increasing flexibility in your muscles.
Taekwondo helps combat cardiovascular disease and anyone, at any age, in any physical condition can do it because you move at your own pace.
Taekwondo will instill a feeling of greater self-confidence and peace of mind.
You'll meet and make new friends practicing with you.
You'll always have an instructor guiding you and motivating you to reach for your personal best . Your mind will be totally engaged.
Afterwards, you'll feel like you've taken a 45-minute vacation!
Daytime Classes
Are you a stay-at-home mom or dad with time on your hands while the kids are in school? Or, maybe you work in the afternoon or evening?
If so, we have a day-time class designed just for you!
Our Daytime classes are a complete workout, involving every aspect of athleticism: balance, coordination, strength, endurance, and flexibility. They are both aerobic and anaerobic.
Evening Classes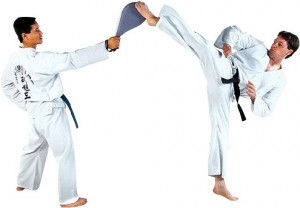 Whether your interest is with fitness kickboxing or our more traditional taekwondo program, our adult programs are a great way to relieve stress, get and stay in shape, and learn valuable self defense skills at the same time.
Our programs blend a great physical workout with practical real-life self defense techniques and are ideal for both men and women!
Students enrolled in our programs can expect increased energy and vitality, a greater degree of flexibility, weight control, muscle toning and better overall health. Our adult programs ares also a great way to meet and make new friends.
Get Started Today!
As you can see there are many great reasons to get involved in our programs but the many benefits you will derive don't start happening until you ACT!
To find out more about the program you're interested in, fill out the form at the top left-hand side of this page, or call us at 301-645-1650 today to get started immediately.