Posts Tagged 'Compliment'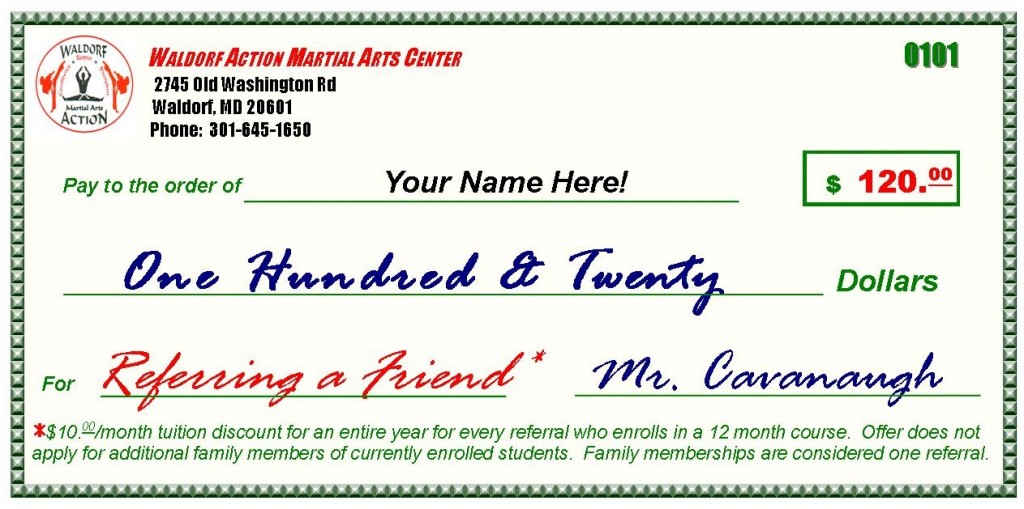 Did you know WAMA has a referral program that can save you money on tuition?
Be a WAMA Taekwondo Ambassador! We value your family's friendship.  We are sincerely grateful and honored that you have chosen us to help raise your kids.  We also know that there are a lot of other kids that could benefit from what we offer here.  Kids whose families you know from work, school, church, and many other places.  We want to attract more families like yours too.  This is why we created the WAMA Ambassador Program.  It is a referral program designed to attract quality people, like yourself to our school. It also allows our valued students to share their martial arts experience with their families and friends at a substantial saving!
Here's how it works–Every family you refer, will receive a One-Month Trial Membership at absolutely no cost!  Plus, a special discount will be available for any sponsored guest that qualifies for entry into our regular program.
In appreciation for your support you will receive a Special "Gift of Gratitude" for each sponsored guest that takes advantage of this opportunity.  Furthermore, if they enroll in our Basic Program, in exchange for your help, we will knock $10 off your monthly tuition for one entire year!  For every family you refer and who enrolls in a Basic Program, we'll knock off an additional $10 for an entire year!
I hope you agree that we have a great school, great instructors and staff, great students and families, AND that we do a lot of good too.  We provide an enjoyable and upbeat place to bring our families.  We teach kids how to be more respectful and courteous, how to do the right thing, how to focus, and how to be leaders among their peers.  Ultimately, our goal is to enhance their self-esteem and self-confidence.
I hope you also agree that all of this is truly important in today's society, which is unfortunately characterized in large part by an epidemic of obese kids, inactive and fixated on electronic computerized games.  Kids that are exposed to inappropriate actions and behaviors daily at school, on TV, and, yes, through the video games they play. And that's why what we do here is so important.  We provide our kids a place to learn right from wrong, a family-centered environment with a positive message for our kids.  Our school is a place where they can make good friends and feel good about themselves. Once enrolled, your kids become our kids and your family becomes a part of our family.
Ambassador Guest Cards are available at the Pro-Shop.  Please give them to people whom you think might benefit from and enjoy practicing Taekwondo.